The ENS Coworking Space
Our Coworking Space is the heart of the ENS campus with a lot of space to work on your projects and let your creativity run free. Here, you will get the chance to increase your productivity, exchange ideas with your fellow students and get fedback from academic staff, mentors and external professionals.
The Coworking Space has a floor area of 250qm and is equipped with a kitchen, a coworking area with modular elements, working cabins and two open-plan offices for academic staff and research assistants. Located on the first floor of the library of Collegium Polonicum, it offers flexible access for members of the ENS community. Enjoy the features: WiFi, coffee, chill-out area and a soccer table.
Public opening hours: Mo - Fr, 11 AM - 5 PM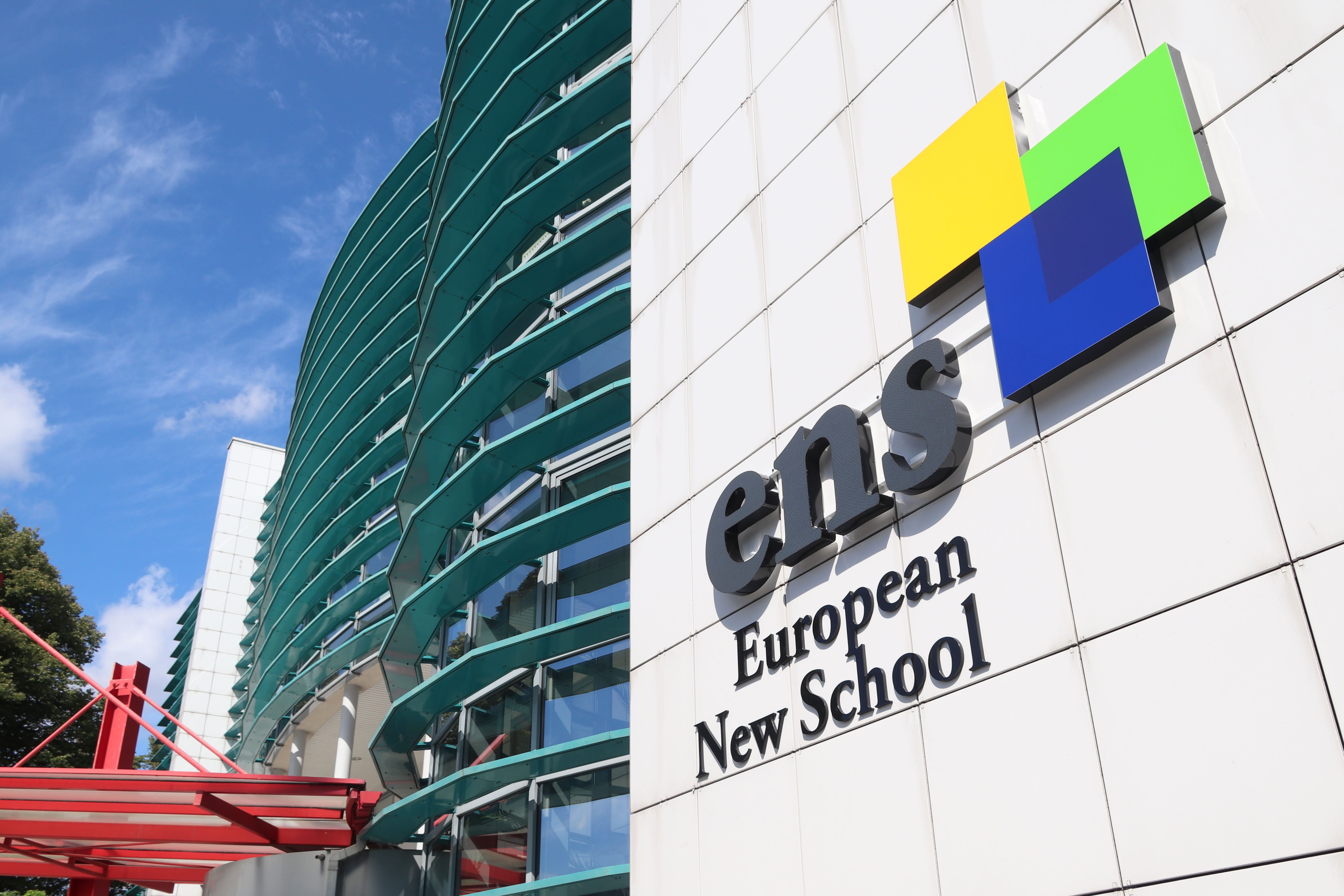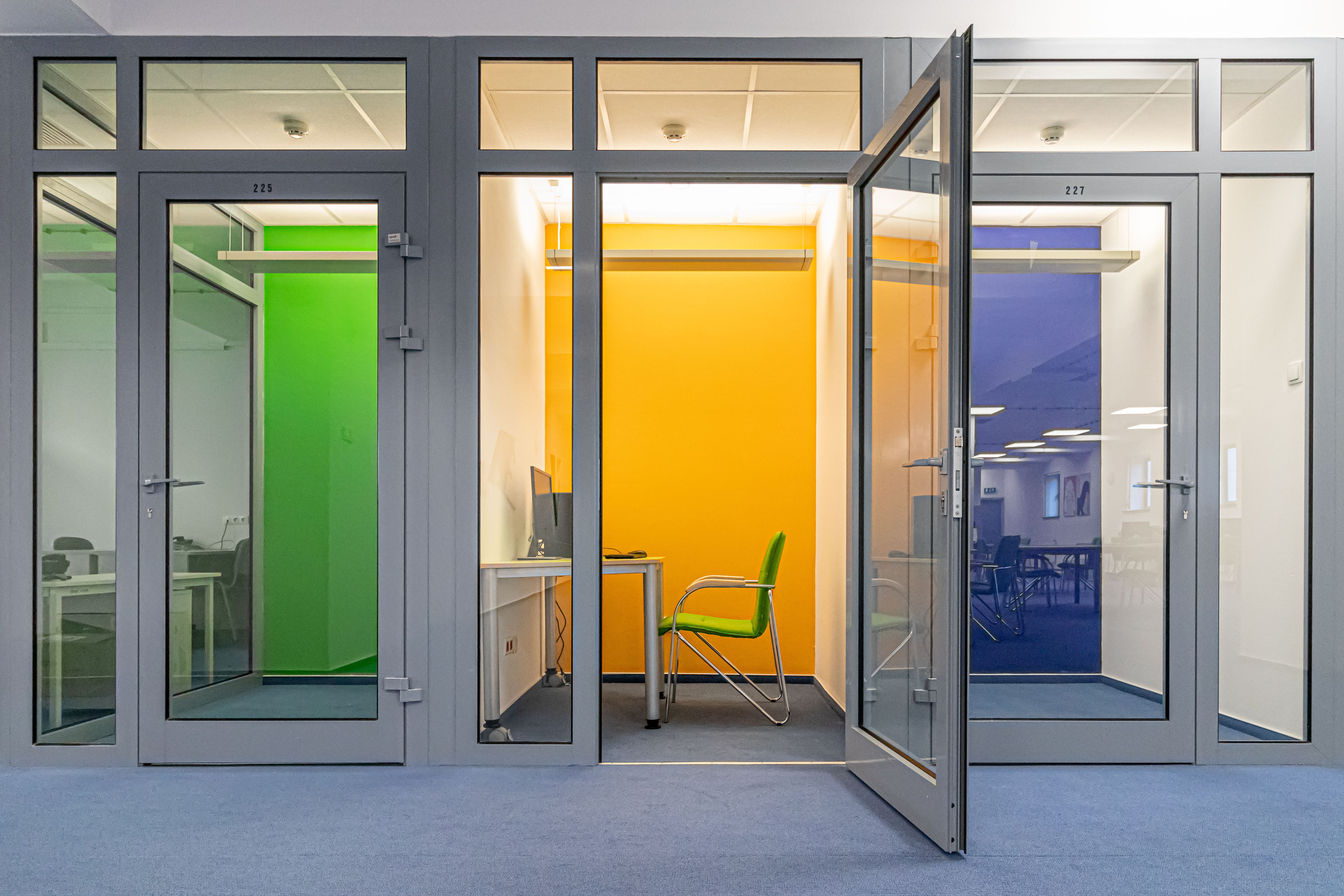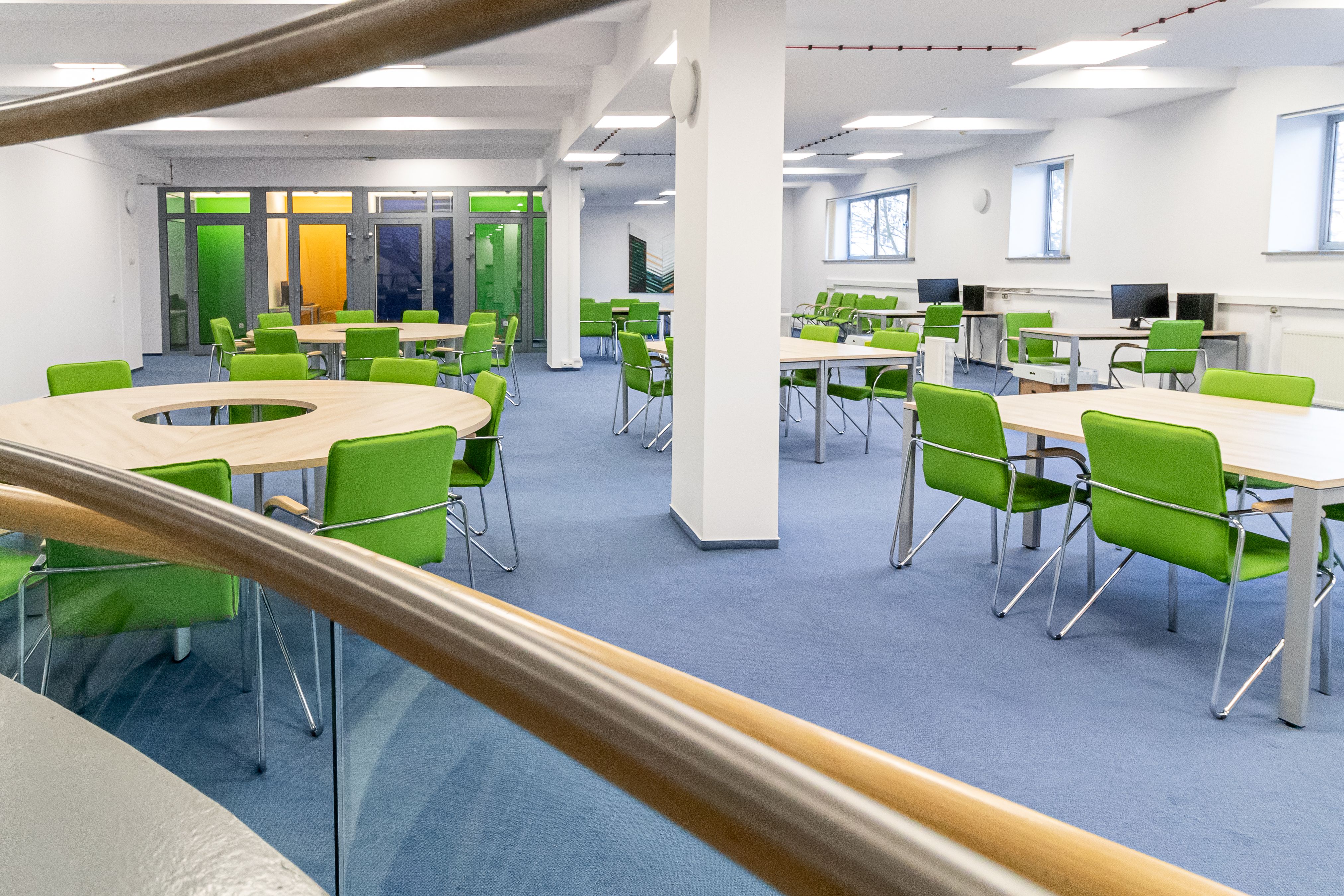 M2M Mentorship Platform
Our M2M mentorship platform aims to connect students of the Master of Digital Entrepreneurship (MoDE) with mentors from different fields of business, research and development. Once registered on the platform, you can get in touch with mentors providing the type of support you need to discuss your innovative ideas and develop your individual project further. The relationship between mentee and mentor is sought, found and negotiated on a bilateral basis.
Please register online and create your profile to find your personal mentors.
Internships
The internship in Module D is mandatory and consists of 12 ECTS. It can be completed either locally or abroad. There are two options: a part-time or a full-time work placement. In case of a part-time employment, students can substitute the missing ECTS with workshops from the
Viadrina Founders Center (Gründungszentrum)
with 1 ECTS equating to 1 workshop (8 hours).
Students should make arrangements for internships on their own. The practical experience should correspond to the study program and refer to digital society. The Viadrina
Career Center
can also assist in the internship offers. For the recognition, students should provide a confirmation certificate of the completed internship from their employer. The ENS Examination Board is responsible for its acknowledgment.
More detailed information can be found in Attachment 3 of the Study and Examination Regulations MoDE 2020 below.
Examination Board
Duties
The examination board of the MoDE makes sure that the terms of the regulations are complied with. They report on the development of the exams and the study periods to the faculties, give new input to reform the regulations and present the distribution of the module grades and the final grades. They decide on the transfer of study and examination credits as well as on the permission for exam registration and the examination dates.
Members
Professors:
Prof. Dr. Lauri Wessel (chairperson)
Prof. Dr. Jan-Hendrik Passoth (representative)
Prof. Dr. Philipp Hacker
Prof. Dr. Agnieszka Vetulani-Cegiel

Academic staff:
Stefan Hanke

Non-academic staff:
Johanna Janotta

Students:
Faisal Khwaileh 
Contact
For any questions related to your exams, please send an email to This email address is being protected from spambots. You need JavaScript enabled to view it..
Master's Thesis
As a first step, please send an email to the Examination Office (This email address is being protected from spambots. You need JavaScript enabled to view it.) asking for admission to the Master's thesis. The following modules have to be completed: Module A, Module C (including one course B2), Module D, Module E and at least one Preparatory Colloquium (F). Module B doesn't have to be completed, but enrollment in the second Preparatory Colloquium (F) is required.
If all the criteria are fulfilled, you will receive a form (a "routing slip") from the Examination Office. Please enter your chosen first and second supervisor and let them confirm by signing the document.
You have eight weeks for writing your Master's thesis. The day on which your first supervisor enters your Master's thesis title on the form marks the first day of this period.
Once the title is entered, please hand the form back to the Examination Office to get confirmation of your thesis' submission date.
You need to hand in two paper copies and a digital version of your thesis at the Examination Office by the submission deadline.
The supervisors have six weeks to evaluate your master's thesis. After that, you will agree with them on a date for your oral exam (Final Colloquium).
Students doing the double degree should contact the AMU (This email address is being protected from spambots. You need JavaScript enabled to view it.) for the specific procedure.
Support
Reach out to our administrative team to clarify your questions regarding your studies at ENS:
This email address is being protected from spambots. You need JavaScript enabled to view it. (Study advisory service)
Get in touch with the MoDE program coordinators:
This email address is being protected from spambots. You need JavaScript enabled to view it. (Program Director Viadrina)
This email address is being protected from spambots. You need JavaScript enabled to view it.(Program Director AMU)